We are excited, honored, and grateful to be holding this unique course and sustainability collaboration project at the UNESCO world heritage site the sacred Buddhist pilgrimage city of Bodhgaya, India - the place of the Buddha's Enlightenment. Our intention is to not only provide a high quality, information filled, and life changing experience for participants; but also to catalyze the 7 Stages to Sustainability process and permaculture design implementation towards supporting the on-going efforts of sustainable development in Bodhgaya by the humble people, activists, and Buddhists monks & nuns in the local community.

URL: http://www.livingmandala.com/Living_Mandala/Permaculture_Design_Certification_Course_India_2013.html
Including

7 STAGES TO SUSTAINABILITY

INTEGRATIVE ECO-SOCIAL DESIGN

WHOLE SYSTEMS DESIGN METHODS

EARTHWORKS & WATERSHED MANAGEMENT

PATTERN LITERACY AND APPLICATION

(PHYSICAL AND INVISIBLE)

URBAN REGENERATION & VILLAGE DESIGN

NATURE AWARENESS & INDIGENOUS WISDOM

RIGHT LIVELIHOOD & LOCAL ECONOMIES 

SITE ANALYSIS AND COMMUNITY MAPPING

4TH SECTOR COLLABORATIVE DESIGN PROCESS

URBAN PERMACULTURE

PERMACULTURE IN THE DEVELOPING COUNTRIES

In Association With

Empowerment Works

Sacred Earth Trust

Instructors

Jay Ma
Melanie St. James
Lilliam Sum
Special Guests
Course Inspiration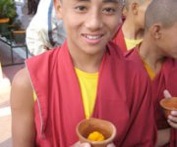 We are excited, honored, and grateful to be holding this unique course and sustainability collaboration project at the UNESCO world heritage site the sacred Buddhist pilgrimage city of Bodhgaya, India - the place of the Buddha's Enlightenment. Our intention is to not only provide a high quality, information filled, and life changing experience for participants; but also to catalyze the 7 Stages to Sustainability process and permaculture design implementation towards supporting the on-going efforts of sustainable development in Bodhgaya by the humble people, activists, and Buddhists monks & nuns in the local community.

Course Description - Seven Stages to Sustainability+ Permaculture

"7 Stages to Sustainability (7SS)" is a collaboration road map, Asset Based Community-driven Development (ABCD) framework, philosophy of self determination and a curriculum empowering people, businesses and organizations to turn local assets into holistic solutions from the ground up. Developed by Empowerment Works' several years of 7SS global grassroots community action, and the success of a first 7SS service learning curriculum in China, 7SS is being taken to new heights in northern India. While the 7 Stages to Sustainability is an Asset Based Community-driven Development (ABCD) framework, philosophy of self-determination and a curriculum, this seven stage pattern is also a proven to catalyst for business, technological and social innovation.

We are exciting to be partnering with with Sacred Earth Trust, an Indian-based NGO, & Empowerment WORKS - a US 501c3 global sustainability think-tank in action dedicated to the advancement of whole-system, locally-led solutions...  to bring the 7SS curriculum along with a Permaculture Design Course to the villages of Bodhgaya, India. In addition to delivering essential 7SS tools for effective implementation of community-led solutions, this 2 week + sustainability intensive will be integrated with a full Permaculture design course focused on utilizing the 7SS and Permaculture Design curriculum towards real projects in the local community. Click Here for more information on the 7 Stages to Sustainability.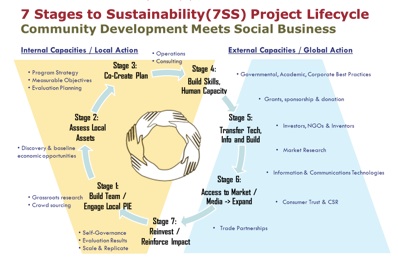 Permaculture Design Course

Learn all about sustainability and receive your Permaculture Design Certificate in the setting of the sacred city of Bodghaya and its many monasteries, pilgrims and seekers who travel from all over the world to this place of the Buddha's Enlightenment. do hands-on design projects that matter, face challenging exercises, do a permaculture design, and learn about the many facets of creating a sustainable lifestyle while benefiting the local community and the efforts for sustainability in Bodhgaya. This is a full immersion experience that will change your outlook and your life forever, as you begin to build a life of resiliency.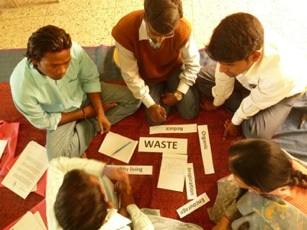 Using a variety of learning techniques and strategies this course presents Permaculture as an integrated design approach to create sustainable human habitat. Course time will consist of traditional lectures, guest presentations, group discussions, games, exercises, hands-on projects, photos, movies and site visits. While we will focus on land systems, many discussions and examples will be explored of applications in the 'Invisible Structures'. These are the social, cultural, political, and economic structures we create as humans that powerfully shape much of our world today. Not only will the course be about Permaculture, but it will also model it by its structure and the environment we create together during the course.

As part of the course students we will work in design teams to utilize the 7 Stages to Sustainability and Permaculture Design Course Curriculum towards tangible projects initiatives relevant in the local community of Bodghaya. The course will culminate with each team giving presentations of their design projects to the class, guests and local stakeholders. These designs will be left with venue to become valuable resources for them.

Join this course and be prepared for  a life changing experience which will given you invaluable design and collaboration tools, as well as leave you much more prepared to respond to the global changes that are starting to happen with solutions, resiliency, and compassion.

What is Permaculture?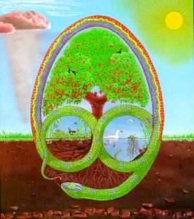 Permaculture is a design system to create regenerative, sustainable systems. Envisioned over 25 years ago by Bill Mollison and Dan Holmgren, from Australia, it has now spread to over 120 countries. Though its conception was as a land based system, its effectiveness has moved it into urban settings and to being applied in various social, political, and economic environments. Permaculture was created through the synthesis of many design systems, with the emphasis on nature as the penultimate one. Similarly, the insights and value of traditional and indigenous practices and knowledge are acknowledged along with the necessity of molding these with our current understandings and the appropriate technologies of today's world. What Permaculture seeks to do is to create three-dimensional designs that are site specific and sustainable. By bringing together elements (orchard, water system, farmer, cow, etc.), techniques (organic framing, natural building, etc.) and strategies (microclimate, relative placement, etc.) a system is designed or altered based on regenerative relationships. It is these regenerative, beneficial relationships that give a system complexity, three dimensionality, and thus, resiliency.
Subjects Will Include:

7 Stages of Sustainability

Permaculture principles & ethics

Reading the landscape

Pattern and pattern application

Watershed Management

Swale building

Zone and sector analysis

Climate and micro climate

Community Mapping

Urban permaculture

Community building

Plant guilds

Food forests and agroforestry

Invisible structures
Design process, principles, strategies and techniques

Soil building

Pond management, ecology, and aquaculture

Earthworks

Natural building

Appripriate Technology

Grey water systems

Renewable energy systems

Forest management

Social Permaculture

Collaboration Tools

Group work on a conceptual design project

Hands-On Projects

And Much More
Permaculture Principles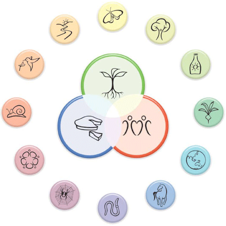 Permaculture principles are a list of attitudes, approaches, and actions that are practical and not system specific. These along with certain tools and techniques allow for a holistic approach and interaction with any type of system. As a tool of analysis it is an excellent way to look at existing programs, strategies, and interventions to assess their interactions, linkages, and success'. It is a way to reach an understanding of the various influences and flows involved in a system, be it self help groups, village, or organization. Second, it provides insights and principles by which to intervene or interact with a system. As there is neither a truly independent system, nor sterile 'environment' this aspect is of significant importance. Thirdly, as we have already stated, Permaculture is an excellent approach for designing resilient, site-specific systems, be it disaster preparedness, HIV/AIDS, or women's empowerment.

Pattern Literacy & Application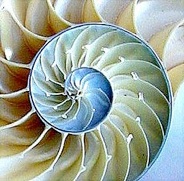 The world can be looked at as the convergence of many different flows. From 'natural' (wind, water, soil, etc.) to human (social, resources, transportation, etc.) to invisible (economic, information, etc.) which interact and create patterns. These flows form our world. Recognizing this, Permaculture teaches Pattern Literacy and Pattern Application. This, along with Sector Analysis (site specific flow mapping), Zonation (a tool for structuring time) and other techniques and tools, Permaculture focuses on creating regenerative relationships that are the key to resilient, sustainable systems.

On The Cutting Edge Of A 10,000 Year old Technology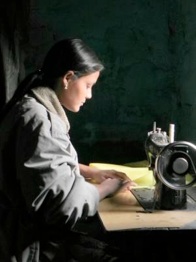 It is important to understand that Permaculture is not so much about giving you new and improved ideas, techniques, and strategies, though there is some of that. What Permaculture does is allow for a deeper understanding of the situation at hand and, with its principles and strategies, a more holistic, effective way to interact with or design a system.  What Permaculture offers are skills and principles by which we build our awareness of why or why not something was successful. Through this insight we can build on what is successful and modify others to become more successful.

Permaculture for Organizations

Stepping up another level, Permaculture is an excellent way to weave together the different parts of an organization so that a unity and synergy can be created. In this way unforeseen benefits and ease will raise within the system. This workshop will present Permaculture with all of these applications in mind. We will focus on land systems with as much hands on work and examples as possible. In addition, many discussions and examples will be explored of possible applications in what are called the 'Invisible Structures', the social, cultural, political, and economic structures that shape much of our world today.

Certification Applicability

Participants who successfully complete the course will receive a Permaculture Design Certificate. Design Certification is applicable towards Gaia University Degree Programs.

Contact

•For more information about Sacred Earth Trust projects contact Lillian Sum at: This email address is being protected from spambots. You need JavaScript enabled to view it.

•For more information on Empowerment Works visit: http://empowermentworks.org/

•For more information on the Permaculture Design Course email: This email address is being protected from spambots. You need JavaScript enabled to view it.


•Or Call: 707-634-1461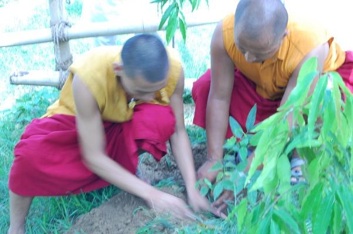 7 Stages to Sustainability

Permaculture Design Course

November 3 - 18, 2013

In the Heart of Bodhgaya, India
Tuition & Registration

Tuition includes course fees, materials, and food for the two week duration of the course. The course tuition does not include lodging or travel to the training venue. Participants who successfully complete the course will receive a Permaculture Design Certificate.

International Students $625 U.S

nternational Students Early Bird $575 U.S (Available for the first 8 registrants who register and pay in full).

Indian Nationals: $325 / 16250 Rs

Indian Nationals Early Bird: $275 / 13750 Rs (Available for the first 6 registrants who register and pay in full).

* There are limited scholarships available for local Bodhgaya residents active in local sustainability initiatives. Please inquire to apply. Donate to the Scholarship Fund!

To Register for the Course Click Here.

Refund Policy

Cancellations up to 2 weeks before the course before Oct 21 will be refunded, excluding a $75 processing fee. No refunds are given after Oct 20. In the unlikely event the course is cancelled, participants will be given a 100% refund.

Lodging

The course tuition above does not include lodging, which is in addition to the fees above and will be paid on-site upon arrival pending on your preferences and arrangements. We can reserve lodging for you at the local monastery hotel  where the course is being held for estimated cost of $100 US at two people per room for the duration of the course, or assist you in finding lodging elsewhere at a local hotel for very affordable rates.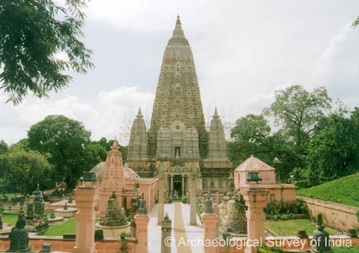 Bodhgaya, India - The Place of the Buddha's Enlightenment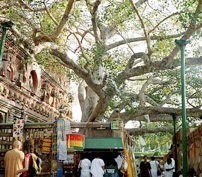 Bodhgaya in northeastern India, is one of the most spiritual places in the Buddhist world and also an UNESCO WHS accredited town. Bodhgaya is the site of the Buddha's enlightenment and the most important of four main Buddhist pilgrimage destinations. Known as Uruvela in the Buddha's time, the city of Bodhgaya is now a town of about 30,000 permanent residents. The two major sacred sites in Bodhgaya are the Mahabodhi Temple and the Bodhi Tree, around which many other temples and monasteries of various Buddhist traditions (Japanese, Tibetan, Bhutanese and others) have been built. Every year, millions of Buddhist pilgrims flock to Bodhgaya to be inspired, dissipate negative karma and earn merit by visiting the holy site where the Buddha became the Buddha - the "Enlightened One." There are many other sacred sites located nearby including Mahakala Cave and others. It is rich in culture and an international gateway, the busy winter season is frequented by pilgrims and visitors from all over the Himalayas and the world.

Who Should Take This Course?

This course is geared for  those who:

•Want a complete and in depth overview to permaculture, all its component elements, strategies and techniques, and the process and methodologies for creating a holistic permaculture design from gardens to community design.


•Have an interest in learning skills for international sustainable development and mutually-supportive 4th sector global collaboration to advance of locally-led solutions.


•Want hands on-experience applying these skills to on-the -ground projects and initiatives with real communities in Bodghaya.


•Are through India who want to experience a truly life changing course that will give you skills and a design framework you can take with you the rest of your life to any country, continent, and ecosystem on the planet.

We expect the course will be filled half with International travelers, and half with Indian Nationals and locals. It is especially beneficial for farmers, ranchers, teachers, designers, all types of agriculturalist, architects, urban planners, engineers, resource managers, and anyone else who works with our physical world or does design work in its many forms. However, one does not need to be going into a permaculture career or a related field to benefit from this training. Many artists, medical professionals, business people, housewives, cooks, international travelers, and others have gained insights, understandings and powerful life, changing experiences that have enabled them to both increase their quality of life, as well as move all their endeavors towards creating a more sustainable world.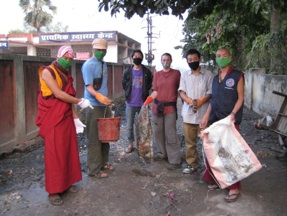 About Sacred Earth Trust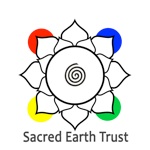 Sacred Earth Trust is a not for profit organisation set up since 2009 to support and encourage the sustainable development and environmental protection of Sacred sites and UNESCO world heritage sites around the world, through working in co-operation with the local, indigenous people and international groups. 

Goals:

•To find practical solutions on environmental issues, working within the diverse communities and connecting with the wider network.


• Together, working towards the transformation of consciousness to enable the maximum potential and growth for human development.  


•Using the environmental awareness and our relation to the planet as a tool for reflection.

Aims and Objectives:

•Working together with local and international organisations to tackle environmental issues


•Identifying and developing sustainable solutions


•Implementing practical solutions through engaging local community participation


•Empowerment through knowledge and transference of skills


•A platform for dialogue and support from the wider context.


•Demonstrating initiatives, co-operation and successful ways of working together


•Exhibit richness of humanity and culture, through social, economic and environmental change. 


•Working together with government bodies and local management committees.


•To develop a practical, ecological and sustainable methodology that can be replicated in other states/ districts.


 
Supportive of projects in the areas of:

Sustainable development in developing countries-


•Zero/ Neutral Waste Initiatives


•Water management/ solutions


•Energy- renewable energy and micro- generation systems


•Carbon zero transport


•Land regeneration and protection

Forging cultural links:

These can be concerning -


•Open dialogues on topics, concerning the global and regional environmental issues.


•Voice of the children/ youth of the world


•Forging links between rural communities 


•Bio diversity, information and seed exchange 


•Environmental education projects using/ exploring Arts, science and technology.

Advice in:

•Setting up social enterprise


•Social corporate responsibility


•Sustainable solutions

About Empowerment Works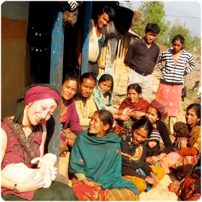 Inspired in Senegal and Zimbabwe in 1999 & 2000, and registered in the USA as 501c3 tax-exempt organization in 2001,
Empowerment WORKS
(EW) is a global sustainability think-tank in action dedicated to the advancement of whole-system, locally-led solutions for a thriving world. In the world's most culturally rich, yet economically challenged communities, access to markets, appropriate technologies and education can empower people to transform critical problems into opportunities for lasting social change. Empowerment WORKS brings these vital tools within the grasp of citizens on the front lines of poverty and climate change.

Working globally from the ground up, Empowerment WORKS fosters a global network of Partners in Empowerment (PIE) united in action by a universal collaboration framework called 7 Stages to Sustainability (7SS).  Through The Global Summit, the African Local Summit, its ongoing Artists in Action event series and other educational forums, these Partners are empowered to contribute their diverse skills, appropriate technologies and markets to catalyze local impact.

Through this holistic mission, Empowerment WORKS inspires people across the globe to realize the value of their existing knowledge, unique talents and collective potential to change the world.

Supporting Sustainable Development With Local Communities in Bodhgaya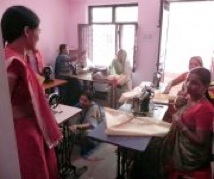 This course will culminate with several groups doing a real life design projects that will be relevant to the local Bodhgaya community. Not only will the teaching be about Permaculture, and the Seven Stages to Sustainability, but it will also model it by its structure and the environment we create together in the course. This course will contribute to the enrichment of its site, the local community, and each of the participants. With the goal of having half international students and half local students this workshop will not only be an opportunity to learn about Permaculture and the 7SS, it will also offer an opportunity to understand we can create a regenerative, sustainable world together. The person attending the Permaculture Design Course will not only gain theoretical and practical knowledge on Permaculture at the end of the workshop but will be handed a Permaculture Design Course Certificate. This certificate will enable the participant to be a certified Permaculture Practitioner.

Permaculture in Developing Countries

From its inception Permaculture has quickly spread to over One hundred and twenty countries where farms and other sites are successfully applying its' ideas, techniques and strategies. As further testament to its applicability, Permaculture is now being applied in many urban and suburban areas. In many developed countries these applications hold much promise for dealing with the many issues associated with mass populations.

Help Support the 7 Stages to Sustainability Campaign in Bodghaya, India!

We are looking for help to meet a a $5,000 matching donation to raise the needed funds to take the 7SS Curriculum and Projects in Bodghaya to another level! For more information and to support the campaign click here.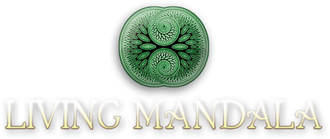 Jay Ma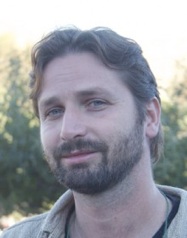 Director of Programs - LIving Mandala
Jay Ma is a holistic educator, regenerative design consultant, permaculture teacher, and social entrepreneur committed to creating ecological and cultural resiliency through living systems design principles. As the founder and director of programs at Living Mandala, Jay works with holistic educators, businesses, communities and institutions designing, organizing, and promoting educational trainings, events, and initiatives for personal, ecological and social transformation in the pacific northwest, nationally, and internationally. Jay is a community organizer and seasoned event producer who has produced educational programs, retreats, workshops, conferences and community development projects for 12 years now with organizations including the Regenerative Design Institute, the Institute of Noetic Sciences, Gaia University, Omega Institute, Harmony Festival, and many others.

Jay received his first Permaculture Design Certificate in 2001, started his degree program in performing Arts Production Management at Naropa University, received a B.S. through New College of California in Culture, Ecology, and Sustainable Community with a concentration in Eco-Dwelling & Natural Building in 2005, and is currently a Master's Candidate at Gaia University in Integrative Ecosocial Design. He is a two-time graduate of the pioneering two-year training intensive in Regenerative Design & Nature Awareness through the Regenerative Design Institute. Jay is permaculture design course instructor, a nature connection educator, a community facilitator, and a fire walk instructor through Sundoor International.

Jay is also co-founder of Shire Springs - a developing Ecovillage based on Permaculture Ethics & Peacemaking Principles offering affordable residential Ecovillage living and community co-stewardship opportunities on a beautiful oasis in the greater Mt. Shasta Bioregion in California - U.S.A.. Jay is skilled community organizer as well as an engaging educator passionate about sustainability, nature connection, social entrepreneurship, team building, and creating a culture of human beings living harmoniously with each other and our environment. More information on Jay Ma can be found on his Linkedin Profile.

Lead Instructor

Melanie St.James, MPA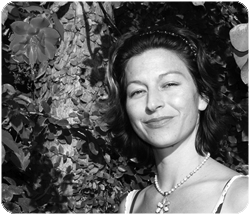 Executive Director & Global Programs Director (USA) - Empowerment Works

Executive Producer & Co-Chair - The Global Summit

Melanie's passion to change the world began at 20 in 1994 with a semester in mainland China, an experience that awakened her to the pressing social and environmental challenges of humanity. Through field studies in Senegal and Zimbabwe (1999) Melanie met many local social entrepreneurs ready to turn local resources into solutions, and in 2001 formed "Empowerment Works" to bring them the access to markets, tools and partners they needed to thrive. In 2007 after participating in the World Social Forum in Kenya, Melanie led the co-creation of The Global Summit (2008- 2020)  to advance participatory, multi-sector and community-led solutions.

Returning to China in Fall 2009 to co-create the service learning program for the World Academy for the Future of Women, Melanie delivered EW's flagship approach "7 Stages to Sustainability (7SS)" as a curriculum, which continues to evolve as an open source Asset-Based Community Development knowledge base.

Through the vehicle of Empowerment WORKS, Melanie is a creative social entrepreneur, building a team of fellow visionaries dedicated to building a thriving world from the ground up and the inside out.  Highlights on the journey include the 2006 International AIDS Conference in Toronto, the 2004 Sustainable Resources Conference in Boulder; Chairing/ Moderating the 5th International Symposium on Digital Earth, 2008 Global Sound Conference; and Co-founding the Coalition for a Sustainable Africa (CSA).

Melanie holds a Masters of Public Administration in International Management from the Monterey Institute of International Studies' Graduate School of International Policy Studies, and a BA in International Relations and Diplomacy from Schiller International University in Madrid, Spain. In 2007 she published a medicinal plant based AIDS treatment which she seeks partners to help make available in the developing world at cost.  Her training in Transformative Mediation and International Negotiations supports EW's multi-sector collaboration model. Fluent in French and Spanish, Melanie has lived and traveled across Asia, Europe, Africa and the Americas.

Plus Guest Instructors & Support Staff

Affiliate Organizations

Become a sponsor of this course!

For details email: This email address is being protected from spambots. You need JavaScript enabled to view it.

For Upcoming Courses, Workshops, & Events in Permaculture, Ecovillage Design, Sustainable Living Skills,