Sacred Earth Trust is a not for profit organisation set up since 2009 to support and encourage the sustainable development and environmental protection of Sacred sites and UNESCO world heritage sites around the world, through working in co-operation with the local, indigenous people and international groups.

"A human being is part of the whole, called by us 'universe,' a part limited in time and space. He experiences himself, his thoughts and feelings, as something separate from the rest -- a kind of optical delusion of consciousness. This delusion is a kind of prison for us, restricting us to our personal desires and to affection for a few persons nearest to us. Our task must be to free ourselves from this prison by widening our circle of compassion to embrace all living creatures and the whole of nature in its beauty."- Albert Einstein

    



        Join

        Sacred Earth Trust

         on Facebook
CLEAN & GREEN BODHGAYA
SUPPORTING COMMUNITY ENGAGEMENT 2012
ZERO WASTE INITIATIVES

4 R's- Refuse, Reduce, Reuse and Recycle.

 
Permaculture Design Course Nov 3-18, 2013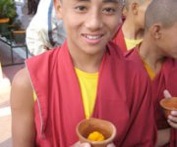 We are excited, honored, and grateful to be holding this unique course and sustainability collaboration project at the UNESCO world heritage site the sacred Buddhist pilgrimage city of Bodhgaya, India - the place of the Buddha's Enlightenment. Our intention is to not only provide a high quality, information filled, and life changing experience for participants; but also to catalyze the 7 Stages to Sustainability process and permaculture design implementation towards supporting the on-going efforts of sustainable development in Bodhgaya by the humble people, activists, and Buddhists monks & nuns in the local community.

Sikkim Calls - June 2012
Finally, headed to the Sikkim mountains to start work on the outreach projects.. Two main projects are to be work on, firstly, environmental training for tribal school in Gangyap and secondly, to start the planning and design of a land for developing a permaculture site in partnership with Chaktar Foundation, a Sikkim based organisation.
90 Fruit Trees Planted In Bodhgaya
During the past 12 days I was in Bodhgaya planting 90 fruit and medicine trees and sharing the little knowledge I have (being trained as biologist) about trees and their role in biodiversity conservation and sustainable development. I visited 6 schools in Bodhgaya area, and a group of women from Pachatti village. I was so glad to see how much children, teachers and women value trees and recognize how important they are for keeping a clean air, water, and providing us with our needs. 
Environmental Education and Practical solutions; Teacher training in BG 2012
Teacher training for schools in Bodhgaya       9th - 10th April 2012
"Environmental Education and Practical Solutions.." was the theme for this years teacher training. 31 teachers attended from schools surrounding Bodhgaya area.
Read more: Environmental Education and Practical solutions; Teacher training in BG 2012
Permaculture Design Course 25th March- 8th April 2012
Permaculture Design Course in Bodhgaya
25th March- 8th April 2012
The first permaculture course in Bihar was hosted by Sacred Earth Trust and facilitated by Rico Zook. Rico has over 20 years experience on the field in USA, Middle East, West bengal and South India. He has taught many PCD courses in numerous locations around the world and we were fortunate  to have him accept the invitation to teach in Bodhgaya.
Patterns in Permaculture, the participants and cardboard boxes to be used to make the solar cooker.
Read more: Permaculture Design Course 25th March- 8th April 2012
Magadh University Student Teacher Training March 2012
Creative Environmental Education for Student Teacher Training at Magadh University 2012
Over 60 students at Magadh University MU took part in the workshops and discussion on environmental education.
Over the 6 sessions, the topics of waste, water, energy, transport and biodiversity were covered and discussed in the large group. Interactive teaching demonstrations were shown through out the sessions.  During the last few days the large group was split into smaller discussion groups of 5/6 students.
Read more: Magadh University Student Teacher Training March 2012